I haven't used up a ton of stuff lately, so I waited a bit to make another empties post. I've been slowly working on older products, so a lot of these won't be purchased again.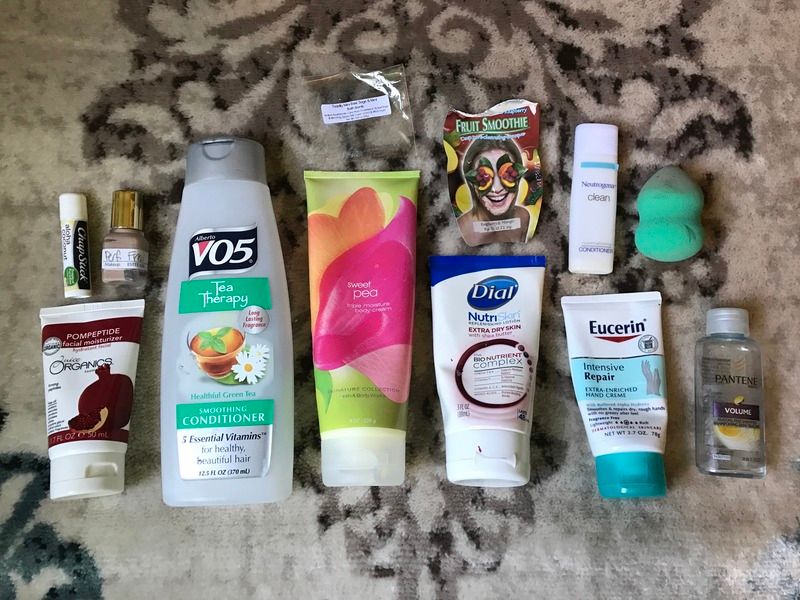 V05 Tea Therapy Conditioner in Healthful Green Tea
// I got maybe four uses out of this whole bottle because the formula for this conditioner was so watery. Would not recommend.
Chapstick in Aloha Coconut
// This is the second lip balm I've ever finished in my life. It felt like it just sat on my lips, though, and it's not cruelty free.
Estee Lauder Double Wear Foundation Sample
// EL isn't cruelty free and this shade didn't work on my face, but I got it from a friend so I used it up. Would not repurchase.
B&BW Body Cream in Sweet Pea
// It wasn't half bad and it was creamy, but B&BW isn't cruelty free.
Dial NutriSkin Lotion
// Meh. It was alright, but not cruelty free.
Eucerin Intensive Repair Hand Creme
// This was a bit greasy and not cruelty free. Pass.
Pantene Volume Shampoo
// This stripped my hair of oils and didn't provide any volume. I won't be getting a full size.
Neutrogena Conditioner
// This was a hotel bottle and a decent conditioner, but Neutrogena isn't cruelty free.
Knock off Beauty Blender
// I snagged a cheap little blender at Marshall's and I really wanted to get on this trend, but I prefer brushes. I haven't reached for this in months and I'm tired of it taking up space, so I'm tossing it. For what it was it was a decent blender, it's just not for me!
Montagne Jeunesse Fruit Smooth Mask in Raspberry & Mango*
//
cruelty free & vegan
// I
love
these masks! I picked up a couple on clearance at And That! and I've been going through them slowly. Highly recommend and I'll be picking up more!
Juice Organics Pompeptide Facial Moisturizer
//
cruelty free & vegan
// My all time favorite moisturizer and guess what? It's been discontinued. I'm so sad. I have one more bottle of this and then I'll have to find a new one.
Toadiliy Mini Basil, Sage & Mint Bath Bomb
//
cruelty free & vegan
// I picked this up in a
haul from Toadily Candles
, and I liked it! I'd get more.
Not Pictured:
Pure Silk Shave Cream
// It's shave cream. I'm still working through my coupon stockpile, but I wouldn't repurchase.
Noxzema Triple Blade Disposable Razors
// No, no, no. Terrible, horrible razors. I bought them on a whim when I wasn't going home and these things were terrible.
Colgate Totale Advanced Pro Shield Mouthwash in Spearmint Surge
// Finally, the last of my non-cruelty free mouthwash has been used up. I'm just glad to see it go.
I've really been trying to clear out my candle stock. The candle on the left is a Febreze candle leftover from Thanksgiving, and the one on the right is a candle I picked up specifically to reuse the jar for makeup brushes. I don't think I'd buy either again, but I got some neat glasses out of it.
That's it for another month!
Follow