It's been a while since I've rounded up all of my empties, but here's another go with some mini reviews. I've included some decluttered items that I'm just not going to end up finishing. I never realized just how many non cruelty free and non vegan products I had until I started using them up and replacing them with kinder products.
Suave Invisible Solid Deodorant in Powder
// I don't know where these things keep coming from, but I'm still going through them. Haha.
Yes to Tomatoes Acne Control Gel Cleanser // cruelty free & vegan // This worked really well when I first got it, my face cleared up, and then I just used it occasionally as a cleanser. I'd get this again to control redness and blemishes, if I needed it. I believe this has been discontinued, but they have tons of good looking cleansers in the Tomatoes line.
Biore Baking Soda Acne Scrub
// This was an alright cleanser sample, but Biore isn't cruelty free.
KenetMD Shampoo & Conditioner
// These were hotel bottles from when I met my mom halfway for a girl's night. The conditioner was pretty nice, but the shampoo made my hair a little dry. I can't find any cruelty free status for them, though.
Carmex Pomegranate Lip Balm
// I've had this tube for forever and finally finished it. Carmex isn't vegan or cruelty free, unfortunately.
Victoria's Secret Pink Body Mist
// This little bottle is
sooo
old. VS isn't cruelty free, so even though the scent was nice, I won't repurchase.
Secret Body Spray in Citrus Breeze
// I got this little bottle in my stocking for Christmas, and I liked it, but it's not cruelty free.
Dial NutriSkin Replenishing Lotion
// Finally finished up the last of these that I got free forever ago with coupons. I won't get this again.
Palmer's Cocoa Butter*
//
cruelty free
// I liked this lotion, but sometimes it was just too thick, and I can't verify if it's vegan or not.
Ulta Mattifying Balm*
//
cruelty free & vegan
// When I first bought this I wasn't sure how to use it, but I got the hang of it pretty quickly. I really like this stuff! It could also double as a primer and worked nicely at mattifying. I'm definitely getting this again!
Mary Kay Foundation Primer Sunscreen
// This was a decent primer. However, MK isn't cruelty free.
Estee Lauder Foundation Sample in Pure Beige 2C
// EL isn't cruelty free and this sample that I got from a friend wasn't a good color match, so I'm glad to be rid of it.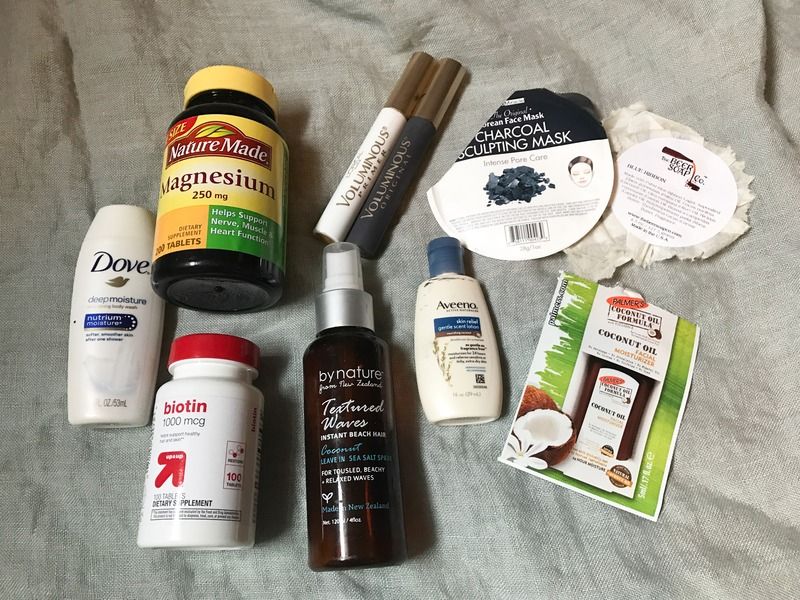 NatureMade Magnesium Supplements
// These may not be vegan and I now have a different actually vegan supplement now.
Dove Deep Moisture Body Wash
// I got this little sample and got quite a few uses out of it, but unfortunately, Dove isn't cruelty free.
Up & Up Biotin Supplements
// Another supplement that I'm not sure is vegan, but I believe it is? I need to do some more research on these supplements.
Bynature Textured Waves Sea Salt Spray in Coconut
// This spray isn't bad! I like it. It has an odd smell, but it works well. I just need to contact the company for CF status.
Aveeno Gentle Scent Lotion in Nourishing Coconut
// Another little sample I used up to get it out of here. A decent lotion, but Aveeno tests on animals. :(
Charcoal Sculpting Mask
// This mask came in a cup that you added water to, and it made SO MUCH MASK. I spread it on way too thickly and
still
could've had four more masks out of the cup, but had no way to preserve the rest of the mix. I wouldn't buy this again.
The Beer Soap Co. Blue Ribbon Bar Soap
//
cruelty free & vegan
// Beer soap? Yup! My boss gave me this bar that's made with PBR. It's a pretty nice soap and I might order a couple different things, like the
American Hops
or the
Karma Deodorant
.
Palmer's Coconut Oil Facial Moisturizer
//
cruelty free
// I've been looking for a new moisturizer, so when I got this sample I was thinking it might work, but it burned when I put it on. Sad face.
L'Oreal Voluminous Primer in White Primer & Original Mascara in Blackest Black
// I did not like either of these products. I got them in an Influenster VoxBox. The formula got better as it dried out a bit, but it was globby and cakey and just bad. Do not recommend.
Glade candles & Dollar General Candle
// More things I decluttered that were sitting around the house for forever. I wouldn't get any of these again.
Now on to my decluttering items: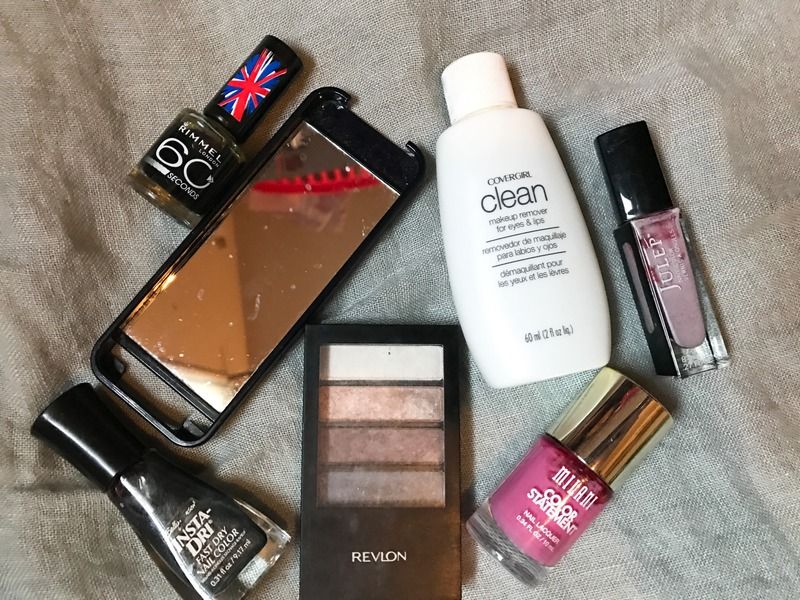 Here's some items that I just didn't like enough to finish. I hate throwing out product, but I
know
I won't finish these and they're just taking up space in my super small bathroom. I won't be getting any of these again.
Rimmel 60 Seconds Polish in Hot Black to Go
// I've had this for years and it made my nails look funny and it's separated, so it goes.
Estee Lauder Mirror
//
I don't generally use compacts while out and about, so I'm tossing this.
Covergirl Makeup Remover
// Hate, hate, hate, double hate, loathe entirely. This was greasy as all get out, required a lot to remove simple mascara, and gave me blurry eye if it got into my eyes.
Julep Polish in Helen 2339
//
cruelty free & vegan
// This separated and I couldn't get it to mix again.
Milani Color Statement Polish in Cupcake Icing
//
cruelty free
// I liked this polish! It just separated on me.
Revlon Colorstay Eye Shadow Mini Palette in Nude Elements
// These shadows didn't transfer color well and the colors were wonky. The darkest color was more of a purple than a neutral color.
Sally Hansen Insta-Dri Polish in Gone Grey
// Another that separated.
That was quite the group of products. What have you used up lately?
Follow