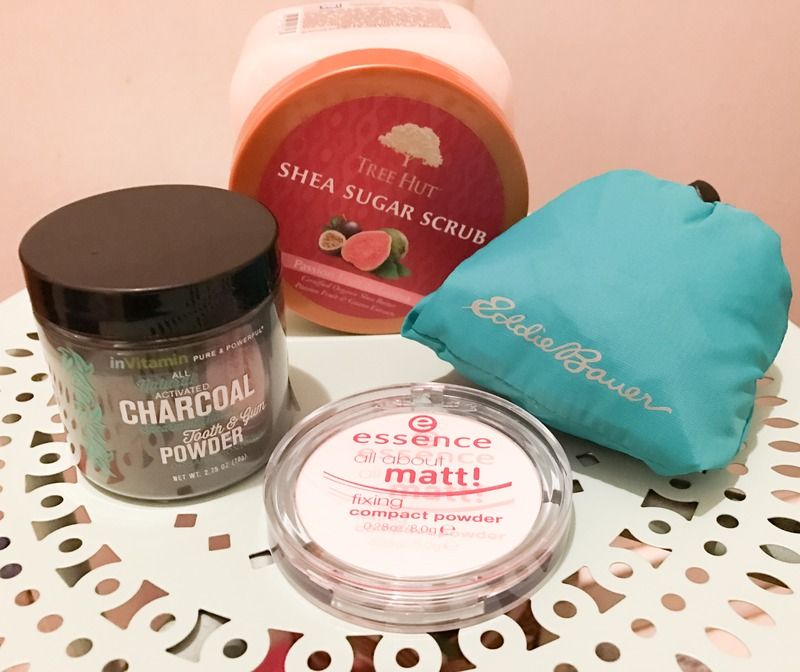 While out in Tennessee, we may have done
a lot
of shopping, but most of it was for gift giving. However, I did pick up some clothes I'd had on my "to find" list and a few odds and ends.
Did you know if you sign up for the
Eddie Bauer Adventure Rewards
they send you a $10 certificate every so often that you can use on anything? We stopped by the outlets and everything in the store was half off, so I scored two
Stasher Totes
for only $2 and some change. I love little collapsible bags I can put in my purse, so I'm glad we stopped there.
We stopped by Ulta and while I had a few gifts in mind, I picked up Tree Hut's
Passion Fruit and Guava Shea Sugar Scrub
. I'm a sucker for anything passion fruit and I've really gotten into scrubs lately. My e.l.f. powder is panned so I thought I'd try the Essence
All About Matt! Fixing Compact Powder
for a change. I've already cracked it open and I like it so far.
The In Vitamin
Activated Charcoal Tooth Powder
is something I've wanted to try but didn't want to order, so I snatched it up at a hefty discount at TJ Maxx. I'm going to give it a shot.
I'm excited to try all of these!
Follow