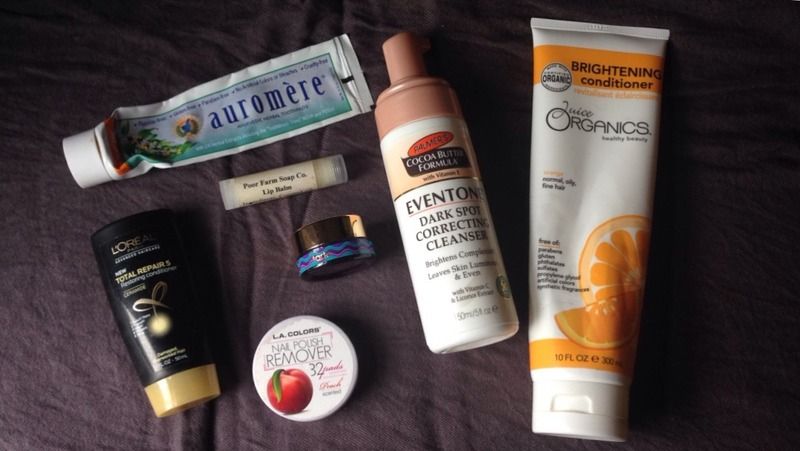 Wow! Seven whole months of keeping up with my empties. I might've finally stuck with a series here on lb. Haha! I've really been thinning out my products, so I haven't been going through as many, coupled with the fact that I haven't been wearing as much makeup during the hot end of summer days. But here's what I've finished up!
Auromere Ayurvedic Herbal Toothpaste in Licorice
//
cruelty free & vegan
// I'm gonna be honest here - I didn't know this was licorice flavored when I picked it up.
However
, I liked this toothpaste. I'd been wanting to get away from the fake, minty, flouride-filled toothpastes, so I snagged this at TJMaxx on a visit to my mom's. The licorice flavor wasn't bad and I'll definitely purchase this brand again. (If you use my link, use the code
TNZ430
and get $5 off!)
L'Oreal Total Repair 5 Conditioner
// I'm still using up these little travel sizes I got for free with coupons
forever
ago. This is a good conditioner, but L'Oreal isn't cruelty free, so I won't be repurchasing.
Poor Farm Soap Co. Lip Balm
// I got this a few years ago at a local festival. It was a decent balm, but it died a summery death melting in the car, then when it solidified again it was grainy, so I'm tossing it. It's not vegan and I can't verify if it's cruelty free or if I'll even see the booth again, so I doubt I'll repurchase.
Tarte Drink of H20 Hydrating Boost Moisturizer
//
cruelty free & vegan
// Here's my full review post of this
here
. I'd repurchase this.
L.A. Colors Nail Polish Remover Pads in Peach
//
cruelty free & vegan
// I've had these things for YEARS and they stayed moist that whole time and still worked! I have another container of them somewhere in Strawberry, but after that container is used up I probably won't buy these again. They worked well, but left a residue on my hands and feet, so I felt I had to wash after using it.
Juice Organics Brightening Conditioner
//
cruelty free & vegan
// I've never seen a conditioner be both thick and light, but this one was both. It was really creamy and thick, but didn't weigh my hair down. My hair felt healthier and more vibrant after using it. I'd definitely repurchase this one!
Palmer's Eventone Dark Spot Correcting Cleanser
//
cruelty free
// Sadly, I missed a milk ingredient in this bottle after I'd opened it. For shame. It didn't work anyway, so I'm not missing out on a miracle product. My skin felt so soft and silky after using it, but I won't be repurchasing.
Not pictured:
Suave Creamy Cocoa Butter & Shea Body Wash
// This was a buy one, get one free coupon deal that I finally used up. Suave body washes lather
so well
but sadly, they're not cruelty free. I have another bottle of this waiting to be used, but I won't be repurchasing.
Clean & Clear Morning Burst Hydrating Facial Cleanser
// This was a hand me down from a friend who didn't want it anymore. It was a decent cleanser, but not a life changer, nor is it cruelty free.
Edge Sensitive Skin Shave Gel
// Another freebie from my coupon stockpile. It's shave gel. It works. I won't be buying again after I use up my stash.
Colgate Total Mouthwash in Wintermint Rush
// It's mouthwash from my coupon stockpile. I'm not a huge mouthwash fan, but picked it up because it was free a while back. I'd like to try Tom's once I get through the other bottles in my stockpile.
Follow