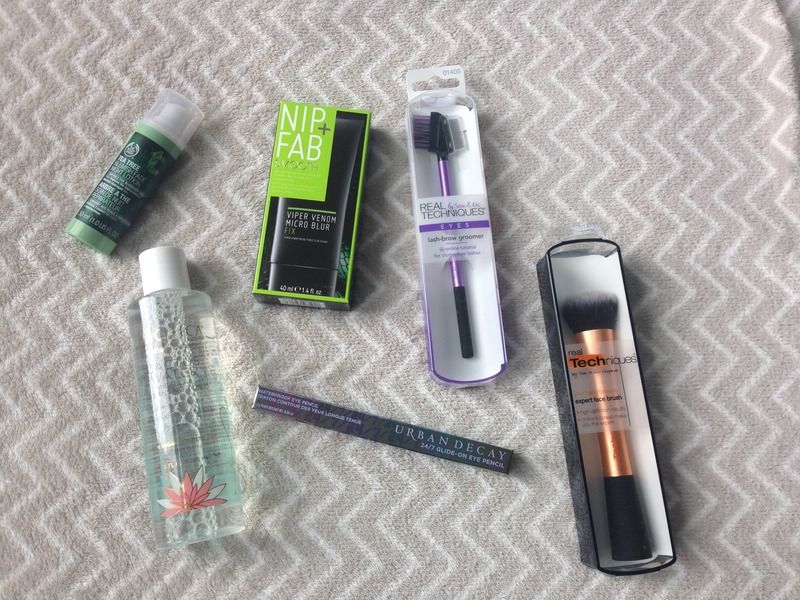 For my birthday I received all kinds of glorious things (including a pair of
Ray-Bans
!) and an Ulta giftcard. Well, while out in Tennessee my mom wanted to go by Ulta, so I picked up some things I'd been wanting for a while.
Pacifica Cactus Water Micellar Cleansing Tonic
// I've been wanting to try a micellar cleanser for
forever
and though the Garnier version is
super
popular on the beauty blogs, it's not cruelty free. However, Pacifica's is both cruelty free AND vegan! I kept looking at this every time I'd go in Ulta but never made the leap - until now!
The Body Shop Blemish Fade Night Lotion
// This was, admittedly, an impluse buy. I have trouble with dark spots from blemishes on my face, I've heard good things about The Body Shop's Tea Tree line, so I'm hoping this works as promised.
Nip + Fab Viper Venom Micro Blur Fix
// I've already opened this and used it and I love it so far. I can see a difference already in oil control and it's tacky enough to use as a primer to keep foundation in place.
Urban Decay 24/7 Glide-On Pencil in Whiskey
// My current eyeliner is on it's last leg so I decided to splurge a bit and grab this pencil from Urban Decay. I was swatching all over the place trying to find a dark brown color that I liked and I settled on Whiskey.
Real Techniques Brushes -
Lash/Brow Groomer
and
Expert Face Brush
// The lash brush purchase stemmed from my horrid application of mascara that morning and resulting in appearing to only have five extra large eyelashes on my right eye. It was great. Since the Real Technique brushes were buy one, get one 50% off, I picked up the Expert Face Brush since I've been looking to try out different kinds to apply foundation. I've tried it and so far it is fabulous.
What's the last thing you got at Ulta? ♥