Nail Polish Remover
// This was a spur of the moment purchase at Five Below quite a while ago. I don't think I'd buy it again.
Suave Invisible Solid Deodorant
// This was my purse deodorant, so it took a while to use up. This did a really good job for me, but sadly it's not cruelty free.
Bath & Body Works Rainforest Leaves Shampoo
// I found this in a bin after having it for years. It was a hotel snag. It worked pretty well, but B&BW isn't cruelty free.
Deep Steep Coconut Oil Sugar Scrub in Pineapple Coconut
//
cruelty free & vegan
// I LOVE Deep Steep! This scrub was great and my skin felt moisturized afterward. If you use my link to order, use the code TNZ430 for $5 off!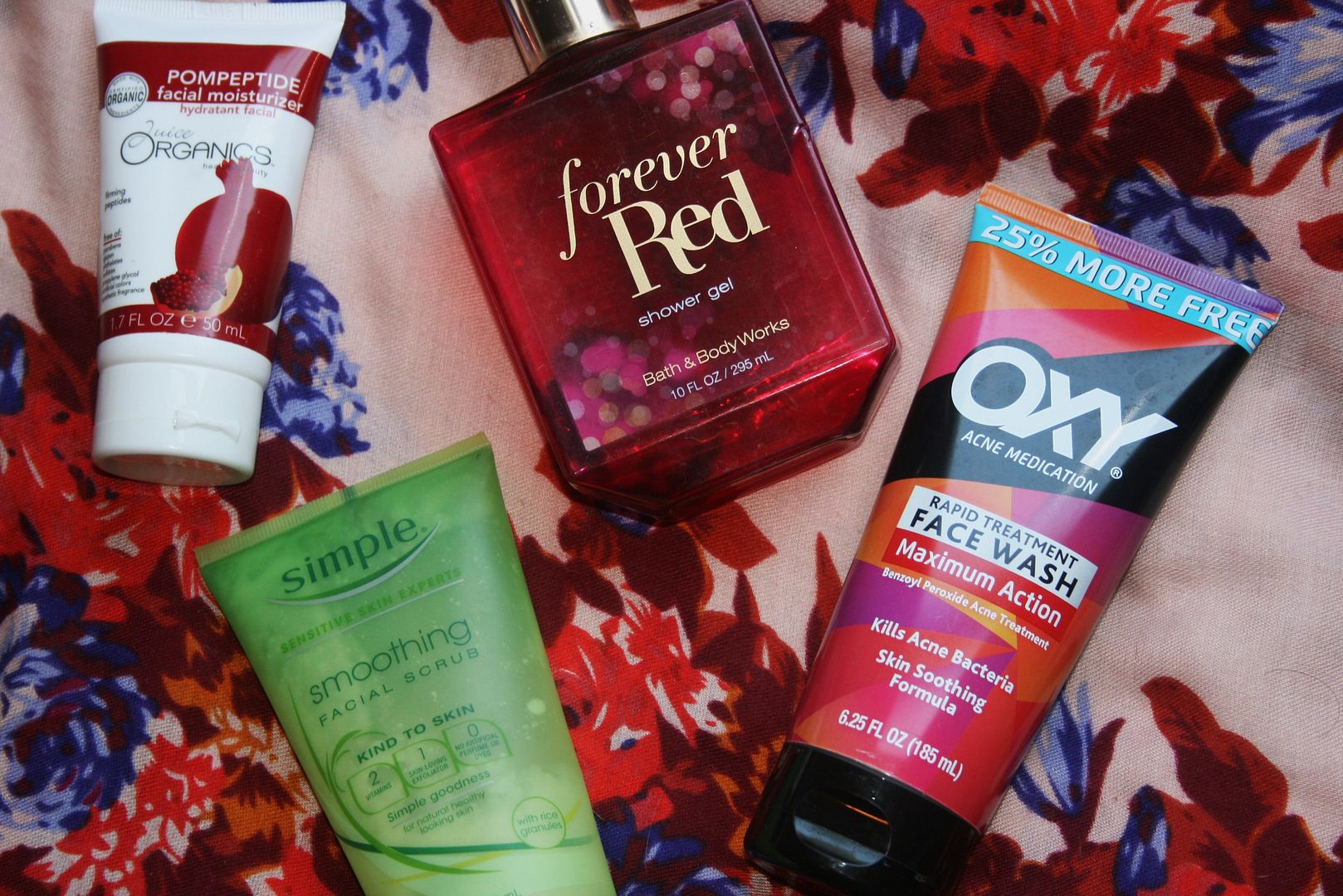 Juice Organics Pompeptide Facial Moisturizer
//
cruelty free & vegan
// I
love
this moisturizer. This is my third tube and I have one waiting to be used. Unfortunately, I can't seem to find it anywhere and I think it's been discontinued, which is so sad. I'll definitely keep searching, though.
Forever Red Shower Gel
// When Bath & Body Works first released the Forever Red line in 2012ish, I fell in love with the smell (at that time I had a smidgen left). I bought this and used it for special occasions. I
finally
finished it. Phew. Sadly, though, as above, B&BW isn't cruelty free.
Oxy Face Wash
//
Boooo.
I didn't like this facewash and couldn't bring myself to finish it. It bleached my towels even after a thorough rinse, and I just couldn't stand to use it anymore. Definitely won't be buying again.
Simple Smoothing Facial Scrub
// Simple fooled me a while back and I thought they were cruelty free. Nope. This scrub was weird, too. Not a lot of exfoliating to be had, and it was hard to wash off. I ended up using it as a hand scrub. I will not be repurchasing.
Lancome La Vie est Belle sample
// I'd totally buy it again if Lancome was cruelty free. :(
e.l.f. Poreless Face Primer
//
cruelty free & vegan
// For the price, it's a decent primer. I like the way it applies. I'd buy this again. If you use my link, use the code TNZ430 for $5 off!
What have you tried lately?
Follow