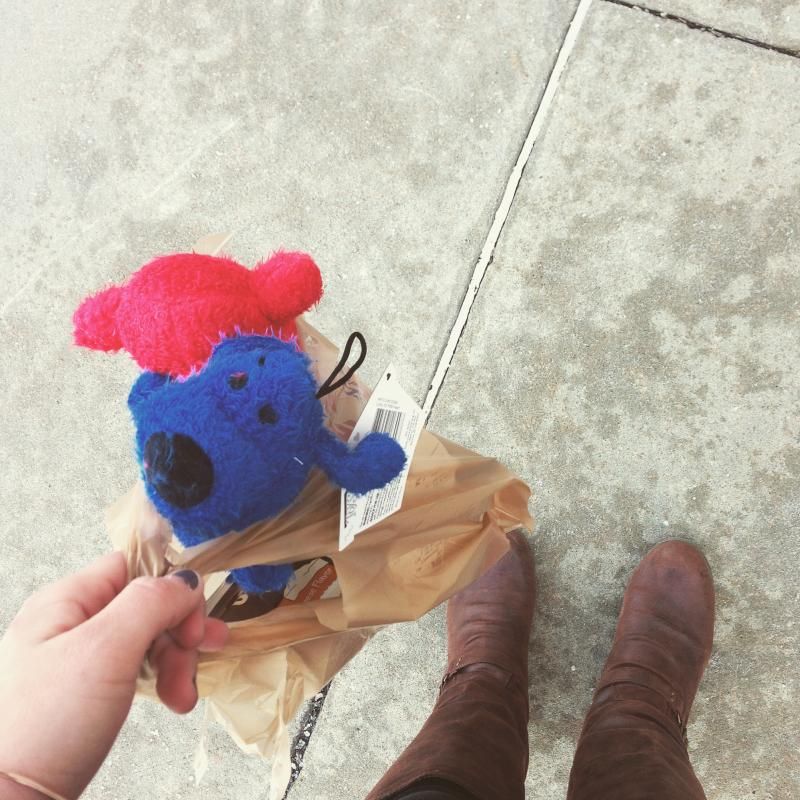 I am a Dog Mama.
Sure, I could be labeled as a Dog Owner, but it's more than that.
I don't claim that my dogs are the equivalent of human children. Of course they're not - they can't open doors and fall down the steps, open the dish detergent and spread it in the kitchen floor, or pinch me with their little grubby fingers. I don't have to save for college, I just have to clean up their slobber when they get excited. Oh wait, so do human parents...
Jokes aside.
Having dogs could not make me happier. I come home, they're happy to see me. I can look like a lunatic in clothes that are fifteen sizes too big and eat cookie dough on the couch and they're happy to see me. I could be sick as all get out and they still cuddle. You get it.
I'm the mama to two
amazing
dogs. Jeffery, a former stray sharpei, and Kaine, a rescued American bulldog. I personally rescued Jeffery off the side of the road, horribly skittish and formerly abused (his story is a doozy for another time), and Robbie had rescued Kaine before I met him. We really lucked out with these guys. They're great - they're impeccably housetrained (they came to us that way), they only chew their own toys, and they listen really well. I'm not one to boast, but come on, they're
really good dogs
.
They have a bit of a lazy side, too.
So how do I know I've crossed from Dog
Owner
to Dog
Parent
? Here are a few bizarre things I do relating to the dogs:
1. Shopping trips aren't just for groceries and toilet paper anymore.
I go down the pet aisle whether I need something or not. I'm sure there's a toy on sale that they'd love, or some new organic treats they might find tasty. Is a pet store near my planned shopping destination? Of course I'm going to pop in "just to take a look". And probably walk out having spent $30 on toys they'll destroy in five minutes but it makes them happy so I had to buy them just so they had the fun of destroying them.
2. They're included on my souvenir list.
I don't know how many times I've said - "We need to find something for the boys - I told them I'd bring them something". This could be when we visit my mom and stepdad in Tennessee or if we just take a day trip to Richmond.
3. I tell them where I'm going when I leave the house - so they don't worry.
I've been told I am utterly ridiculous for this one. I
always
tell the boys where I'm going ("
Off to work, guys!"
), how long I'll be (
"It'll probably be a late night, guys."
), and that I love them. Every time I leave the house. I know they can't actually perceive that I will be gone all day and that they still miss me, but I like to think that maybe they
do
understand and it gives them peace of mind.
4. Dog hair doesn't matter anymore.
Do I own a lint roller? Yes. How is there any hair left on the boys when it's all over my clothes? I don't know. I used to care. I used to lint roll before I left the house. And before I catch any crap - we sweep. We vacuum. Frequently. We have hardwood floors - there's no carpet for the hair to stick to, so it floats and whisps and swoops around. My method of minimizing the hair is to take the clothes from the dryer, put them directly away, and get dressed immediately before leaving the house. It's the best way I've found other than spending trillions of dollars on lint rollers.
5. I ask them how their day was.
When I get home from work I've usually been gone at least eleven hours. I always ask them "What did you do today, boo?" and though they don't answer, it's become quite the habit. I like to assume they're recounting their days - nap, chewed on bone, nap, laid in that sun spot, drank some water, nap, tore apart a toy, nap.
6. They get every pizza crust.
I know, they're not supposed to have people food. We feed them very high quality grain free food, so when we have pizza I give them my crusts. They've learned what a pizza box looks like. I do like to have them try vegetables we cook, too - obviously not anything that could harm them (I have the toxic food list memorized), but I'll have them try things like zucchini. Jeffery loves tomatoes, cooked/raw/sauce, he's not picky. We found that one out after he stole a garden tomato off the back porch thinking it was a toy.
7. I have a fierce, fierce loyalty to them.
Don't talk about my dogs. Don't yell at my dogs. Don't joke about my dogs. I protect them with the fierceness of a mama alligator (I even googled "most protective mothers in the animal kingdom" so I could be accurate). I am aware that Jeffery has a face that only a mother could love. Do not tell me this, I think he's the cutest dog I've ever seen and I will be irate that you said it. You know those stories of mothers doing insane things to save their children? One car is nothing - I'd throw that thing a mile to save these pups.
Guys, I know I'm weird when it comes to my dogs. I don't have human children, so they're my children. They love me unconditionally, why wouldn't I treat them like kings?