I made a total of $4.55 via ibotta* (you get $10, I get $5!), Checkout 51*, and Mobisave (use code AKHJYJNZ)* from a singular grocery trip. All of the rebates were for things I would normally buy, with the exception of a jar of Frontera salsa which was marked for closeout at $1, which I then made a rebate of $0.80 on, so I paid less than a quarter for it!
When renewing the domain name for LB, I received 9% back from Ebates*!
N and I swapped some clothing, so I got a pair of Converse in exchange for some hiking socks and a long sleeve moisture wicking shirt I wasn't going to use - eco friendly and frugal! I can use what she won't, and she can use what I won't.
I switched over to the Verizon Unlimited Plan as of a month or two ago, so I've been burning up Rain Rain* and I've still yet to go over the threshold of the "22gb and we cut you off". I still pay more than some folks for my phone, but as much as I bitch about Verizon, they've been fairly good to me as a customer.
For lunches, I snagged two 90 cent closeout tv dinners at the store. They're not ideal and not even remotely healthy, but I figured they'd do in a pinch when I didn't have time to make something.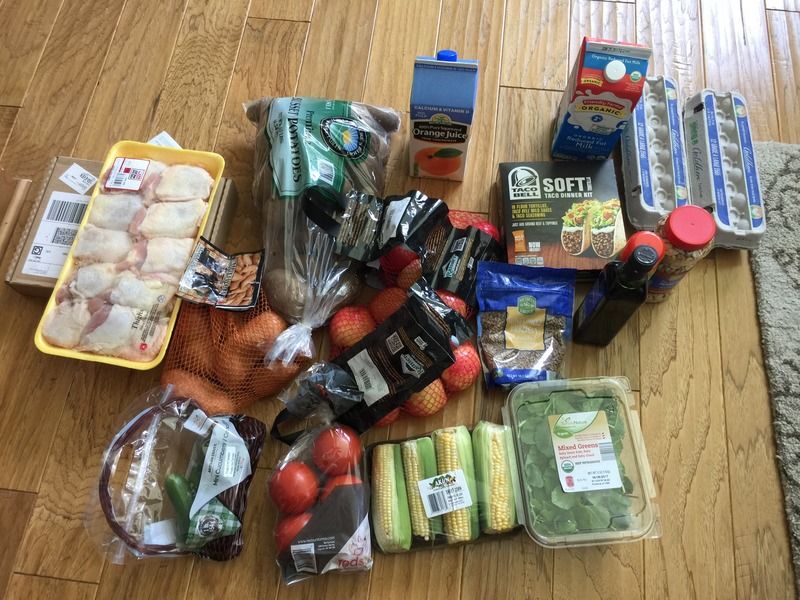 This one isn't mine, but my mom just jumped on the Aldi train and got all of this for $41! We're both big on bargain shopping, can you tell?
I umpire a few days every week at the local little league and sometimes get a free meal if the concession stand is open. I'd do it for free because I love baseball, but it's a nice treat. Plus, who passes up ballpark fries???
Speaking of umpiring, I needed a short sleeve moisture wicking shirt that covered my back (I was previously wearing tank tops) because the chest protector rubs my shoulder blade raw, so I stopped by Kohl's because I had a bit of a giftcard left from Christmas. I found a TekGear shirt that was perfect AND marked down to only $4, so I went to checkout. It actually rang up at TWO DOLLARS, so I saved 90% off and still had three dollars and some change left on my giftcard. Win!




I finally accumulated enough points for a free pizza via Domino's rewards. You only have to place an order with a qualifying pizza six times, but I never want to pay for the delivery so I only order rarely. I'll most likely use this when N and I want to split a pizza at work.
Via ibotta, I made another $1.50 at Target and Food Lion. The item at Target was 30% off via Cartwheel, so I paid little to nothing for it, and the quarter at FL was for an "any item" redemption.
I redeemed a $5 Amazon giftcard through The Panel App.
My stepdad was in town a little bit ago and I needed to deliver a package he ordered to him, so we had dinner at a local Mexican place. He paid (forever grateful!) and we had a great time! It's always nice to catch up with family that lives out of state.
I really wanted Noodles & Company for dinner Saturday night and I had a coupon for a FREE Pasta Fresca, so I got two regular size dinners and a side salad for $8 and some change.
While at an investigation, a friend didn't want 3/4 of the leftover pizza, so I offered to take it home so it wouldn't go to waste. It was my lunch the next day!
Another week, some more pennies made and saved. How about you?
Follow