I've done more beauty shopping in the last two weeks than I have in months! In my quest for Christmas gifts, I've made some great (cheap) discoveries at discount stores. Quite honestly, I need more beauty products like I need a hole in the head, but sometimes it's nice to treat yoself.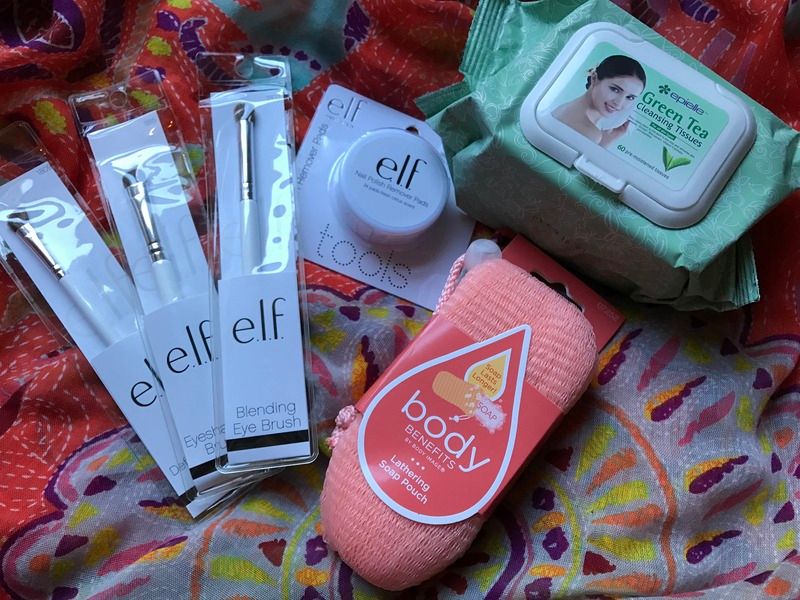 Woo! I got each of those e.l.f. brushes for a dollar a piece, which is what they normally sell for, but I didn't have to make a trip to Target for them. I haven't seen the nail polish remover wipes before, but those have been a nifty little thing I've liked recently from other brands. The pack of Epielle wipes was only $1 for a 60 count and I'll probably use those to clean swatches and for eye makeup.
I have a lot of bars of soap from my couponing days and a couple CF bars that I found recently for a good deal, so I grabbed this soap pouch to help use them up.
It's been a painstakingly long process in growing out my nails after being a lifelong nail biter. It's working, though, and I've been loving perusing all the nail products. I snagged this collection for only $5.99 and I can't wait to start using them!
I've yet to find any e.l.f. polishes anywhere but occasionally in a gift set at Target, so when I saw this at Burlington for $3.99, it came home with me. A few of the polishes are duplicates of what I already have, so I'm going to gift them as stocking stuffers.
♥
Follow